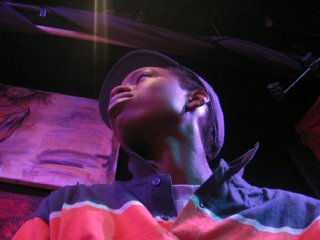 Hey!
Adepero Oduye here aka Alike Freeman from PARIAH the feature.
Ok so this is my first time ever blogging.  Yaay!
PARIAH.
This amazing journey started with the short film, shot in 2006.
I saw a breakdown of a NYU Grad thesis project that seemed so unique. I had this feeling that this was a project I had to be a part of.
Mailed my picture/resume.  Received a call from Dee to come in for the lead role of Alike.  REALLY?!  Cooool!  I was excited.
When I read the sides I just "knew" who this character was.  I don't know how else to explain it.
I showed up to the audition wearing clothes borrowed from my little brother.  I read with Nekisa and remember walking out feeling great.
That was the start.
One of the highlights for me was getting the shooting schedule and seeing I was going to be on set everyday.  EVERYDAY!  That was probably THE most exciting thing about it all!  *smile*
It was 10 days of fun, challenges, internal struggles, tears, smiles, jokes, laughter, and love.
I am in absolute awe of that experience.
The places I have been. The people I've had the pleasure meeting.
It was just the beginning…